Antique Automotive & Railroad Paraphernalia tools or decorations etc.
1926 Tungar Wall Mount Battery Charger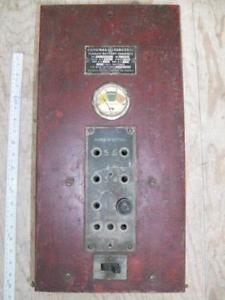 1926 Tungar stationary battery charger, made by General Electric. This was the gas staion model that hanged on the wall. It could charge up to six 6 volt batteries at a time. It has the old porcelain connectors on the side where the knob and tube wires went in, it runs on 115 volts AC, charges 6 amps DC. It measures 8 1/2 inches wide by 8 inches deep by 18 inches high. asking $200.
1921 Tungar Portable Battery Charger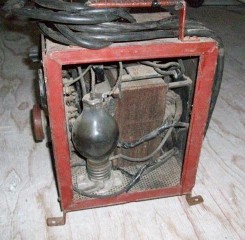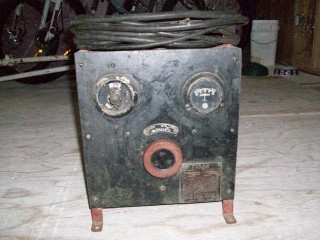 1921 Tungar portable battery charger, made by Canadian General Electric. This was the portable model from the same garage. Its for charging 6 volt batteries also. It measures 10" wide by 10" deep by 15" high with the handles. This one has the special tungar bulb in it. asking $100.
Echlin Parts Tool Cabinet

Vintage Echlin the performance line tune up parts cabinet. Mechanic's parts cabinet, It measures 32" x 36" x 13 1/2" (Sold).

Wagner Lockheed Parts Cabinet

1960's Wagner Lockheed brake parts cabinet,with 1958 to 1967 Wagner Lockheed parts brochure that was in it. It has 5 small shelves inside and measures 30" x 24" x 6", asking $120.

Echlin Alluminum Brakes Sign

Large heavy aluminum sign in aluminum frame with Echlin's brown and orange colors. It measures 3 feet high by 6 feet long and weighs 40 lbs. Letters are vynil stick on letters that could be taken off and add your own custom letters. Asking $80.
Horse Buggy & Model T Ford Steps

Antique horse drawn buggy carriage, sleigh or model t Ford steps, asking $35. each.

Antique Pontiac Hubcap

Antique Pontiac hubcap, 10" diameter, asking $20.

1908 Tire Saver Jack

J.C. Moore & Co. Racine Wis. Tire jack, Patent Jan. 14, 1908, asking $45.
1950's Police Spot Lights

1.) Unity MFG. Co. Model S6 Chicago USA, spotlight with long shaft white handle, GE bulb, asking $90.
2.) Unity MFG. Co. Model S6 Chicago USA, spotlight with short shaft black handle, GE bulb, asking $100.

1961 Chrysler 300 Fin Lights

1961 Chrysler 300 fin chrome lights, they measure 14 1/2" high by 6" wide and have a 2" diameter clear lens, asking $85. for the pair.

1966 Dodge Polara Rad

Used 1966 Dodge Polara copper heater rad, it measures 9" x 8" x 2", asking $25.

1930's Ford Wire Rims

Three 1930's Ford wire rims, asking $60. each.

Antique Dual Truck Horns

Antique electric dual truck 18" & 22" long horns with 30" mounting bracket, asking $45.

Air Raid Siren

Antique 1950's air raid, fire department siren, made by Federal Sign & Signal Corporation, Model D, 2.2 amps, 120 volts, 10" dia. x 12" long, (Sold)
1.) antique 1934 side movement #206 truck screw jack, Good working condition, asking $30.
2.) 1960 Bilstein Volkswagen beetle, bug, VW or Porsche jack, (Sold). Made in Germany.
3.) 1929 Ford model A or T split rim tool, missing the jaws, asking $30. No. 1704628, patented 3-5-29
4.) Drednaut model S-41205 twin bumper jack, (Sold).
5.) S&H Industries heavy duty push-pull Body mate automotive autobody tool, asking $60.
6.) Auscollet by Auto Specialties MFG. Windsor, Ont. asking $40.
7.) Two Puljak monkey on a stick, friction jacks, asking $30. each.
8.) Antique puller c-clamp automotive tool, asking $20.
9.) Antique bumper simple screw rod jack, asking $25.
10.) Antique brass tire bead breaker hand tool, asking $50.
Antique 1966 Dodge Polara car parts from grandpa's garage.
1.) 2 Dodge hub caps, asking $30. 2 Chrysler hub caps, (Sold) .
2.) Carburetor, asking $30.
3.) 1966 Heater rad , asking $25.
4.) Wiper motor (SOLD)
5.) 1969 Dodge starter, 12 volt Delco, asking $30.
6.) 1957 or 1958 Dodge spears hood ornaments, (Sold).
The double hood spears (Sold) for a 1957 or 1958 Dodge Custom Royal Lancer, or Dodge Coronet, or Dodge Desoto, or Dodge Wagon, or Dodge Regent, or the Dodge Charger.
The single hood ornament is 6 3/4 inches long by 1 1/2 inch wide by 2 inches high and has 4 screw holes in the base of it. I'm not sure what it came off of. asking $20. for the hood ornament.
One 1925, asking $40. Match set 1965, asking $60.

Antique & Vintage Ontario License Plates

One 1925, one 1932, 1938 (Sold), 1939 (Sold), one 1948, one 1951, two 1953, one 1954, 1957 (Sold), one 1960, two 1964, two 1965, one 1966, one 1968 (Sold), two 1969 (Sold), one 1969, two sets of two 1970, two 1971, two sets of two 1972, two 1973, & one 1973

Single plates are $10. to $20. each. Match sets are $40.to $60. per set.
Ford Umbrella Holder

Ford Dealer, umbrella & cane holder can, 10" diameter x 15" high, asking $40.

Flexible Exhaust Tube

Flexible exhaust tube for garage, 4" diameter by 9 1/2 feet long, asking $50.

Balcrank Oil Spraygun

Antique Balcrank Oil Spray Gun Type HM Cincinnati Ohio USA Patent Number 1.762.552 Oiler & Solid brass No. 37 oil spray gun, they both fit on the same can, asking $45. for the pair.

Antique Gas Station Can

Antique Gas station can with screw on lid, it measures 12 3/4" dia. X 18" high, asking $75.

C.N. Galvanized Pail

One C.N. embossed 12" diameter galvanized pail, in good condition, (Sold)

Conestoga Wagon Jack

Antique '87 Conestoga wagon jack, it measures 24" x 7 1/2" x 3 1/2" closed, weighs about 45 lbs. Asking $320.
Pacific Rim Tool Jr.

Antique Pacific Rim Tool Jr, for Ford model A or T split rims, complete and works, asking $65.

Aluminum Super Hoop Step

Aluminum super hoop truck step with steel multi mounting brackets on it, It is made by CARR, http://carr.com to see the details and the quality. asking $25.

Vintage Mechanics Creeper

Vintage classic Canadian Tire MotoMaster mechanics creeper, was going to make a coffee table for the man cave with it and never did, still works great as a creeper also, (Sold)

Mechanics tools

Vintage mechanics tools that came from an old gas station garage that closed down. Some look like custom made specialty clamps, pullers, tools. asking $10. to $30. each for those. Some are (Sold).

2 Valve Lapping Tools

1.) Vintage Zim valve lapping tool, asking $25.

2.) Antique valve lapping tool for Ford model A & T, asking $45.

3.) 3/4 full can of Clover Compound silicon carbide lapping compound, asking $20.

Vintage fuel-oil can

Vintage 2 gallon fuel oil galvanized can, doesn't leak, measures 9" diameter 10" high, asking $20.
Car Hop Drive-in Window food tray

Vintage car hop drive-in window food tray, pastel blue green, Serv-a-car Products, Inc. Parsons, Kansas, it measures 13 3/4" x 9 1/2" x 3 1/2", asking $25.

1939 Rite Tool Inc.

1939 Rite Tool Inc. Auto armature commutators hand lathe tool, by John L. Mansfield, for turning and slotting commutators by hand. It is designed for reconditioning armatures for GM, Ford, and Chrysler cars and trucks. It comes with 4 collets, sizes .562, .625, .635 and special .669 collet for 1941-42 Ford , with metal case, Patent #2145091, asking $45.

Vintage Mechanics Tools

17.) 1953 Industrial Devices Inc. Model 500, voltage indicator kilovolts meter, Patent #2644134, asking $25.
18.) Vintage Heyer Industries Inc. universal compression tester, model 345-A, asking $25.
19.) Vintage Peerless engine vacuum and fuel pump tester, 0-25 pounds, (Sold).

Square wheel nut wrench & Ratchet

1.) Antique hand forged 1" square wheel lug nut ratchet, asking $60
2.) Antique wagon wheel 1" square wheel lug nut hand T-wrench, asking $50.

Brass Tire Bead Breaker

Antique solid brass tire bead breaker with 32" steel handle, asking $50.

Brake Shoe Rivet Setter

Antique 1902 The Parmenter & Bulloch MFG. Co. LTD. Ganonoque, Ont. # 2 cast iron rivet setter for brake shoe linings, asking $45.
Battery Cell Tester

Antique battery cell tester tool, (Sold).

1966 Ford Mustang Grill

1966 Ford Mustang GT front chrome metal grill (Sold)

Porter No. 4 Winder

Porter No. 4 universal spring winder (Sold)

1926 Besco 9857

1926 BESCO 9857 Giant Battery Terminal Pliers, asking $35.

Ford Oil Can & Wrenches

1.) Antique Ford oil can, (Sold).
2.) Ford model A wrenches, asking $20. to $25. each.
3.) Ford model T 1927 adjustable wrench with square oil plug wrench end, Made. By McKennon Industries, asking $45.

Antique Automotive Switches

Two antique car or truck ignition starter control switches with keys, asking $45. each.
Heavy CNR Boxcar Handle

Antique CNR cast iron box car handle (Sold)

Railway Crossing Light

Railroad Railway Crossing Light, asking $100.

Railroad signs

1.) 24" x 22" rail road private crossing, (Sold).
2.) 24" x 8" rail road, black & white dots, $15.
3.) 35 1/2" x 12" hazards sign, asking $45.

Raco Railroad Lock

Vintage Raco railroad signal box screw lock, asking $20.

Tilley Inspection Lantern

Antique Tilley British railway inspection lantern with handle, Made in England, (Sold).

Railroad Lantern

1.) Hiram L. Piper Co. Ltd. Adlake Kero 1-53 patented Railroad lantern, (Sold).
2.) Dietz Vesta Railroad lantern, asking $90.
CN Aluminum Tie Tongs

Heavy duty CN aluminum tie tongs, #CN-B84 with removeable hardened steel tips, asking $75.

Train Station Scale

Antique cast iron train station platform scale with pull handle, Made by The National MFG. Co. Pembroke, Ont. It measures 24" x 44", weighs up to 2000 lbs. asking $720.

Two Railroad Lanterns

1.) One red 1920's C.P.R lantern, The Hirams L. Piper Co. Ltd. with Adlake Kero short globe, $85.
2.) One 1920's E.T. Wright & Co. Mfrs. Hamilton, Ont. Railway lantern, (Sold)

1950 Airchime Train Horns

Antique 1950 M series Nathan Airchime locomotive air horns from The Holden Co. Ltd. serial #3014, model #M311 it has the #2, #3, and #4 bells that measure 9", 11", and 13". It has a heavy cast iron manifold, they weigh about 25 Lbs. Asking $999.

Railway Lamp

Antique railroad railway crossing table lamp, the base is made with black iron, brass & galvanized industrial pipe fittings, it has an 8" diameter red globe and stands 15" high. The light works and has the original DC lights inside, it comes with a DC transformer. It could be set in the middle of your model train tracks and made to turn on when the train passes. Asking $280.

Railroad Crossing Light

Vintage railway crossing light on a cast iron stand. It was completely rewired to 120 volts (Sold).
Antique R.R. Track Level

Antique railroad track inclinometer grade level,

with solid brass ends and level,

it measures 60 1/2" long, $95.